Description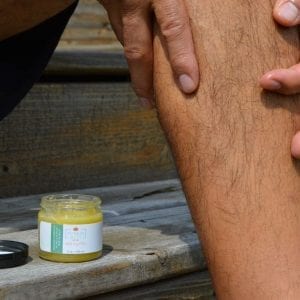 This balm is made to provide maximum relief for aches and sore muscles due to injuries, sports, inflammation or other causes. Made with Organic Sunflower Oil infused with Organic Arnica Flowers and then we added 400 mg of Organic Full Spectrum Hemp Extract and an Essential Oil Blend of Eucalyptus, Orange, Rosemary, and Peppermint.
Rub this balm over affected areas and allow the rich benefits of our oil to absorb right into the areas of pain and discomfort where they are needed most and where they can begin working instantly. This is an effective alternative in many cases to over-the-counter and prescription medications.
Hemp Extract is absorbed through the skin and binds to the body's own receptors. Hemp extract has a pain-relieving and anti-inflammatory effect on the body once it connects with these receptors. It is not mind altering nor habit forming.
Pure Hempseed Oil, rich in essential fatty acids and over a dozen vitamins and minerals, contains anti-inflammatory properties to dramatically decreases skin dryness, alleviate itching and reduce irritation.
Arnica Extract when applied to the skin helps reduce pain and swelling associated with bruises, aches and sprains.
Additional information
| | |
| --- | --- |
| Weight | 0.25 lbs |
| Dimensions | 2 × 2 × 2 in |